Dry-brushing Acrylic Paints
I love to dry-brushing paints, but today we're talking about acrylic paint. Lets go over a few things you will want to consider. The thickness of the paint, what brushes to use and what is the drying time are just a few things to think about.
Believe it or not the brush can be size but it needs to have a flat edge. I use, stiff natural bristle, soft sable, fan and synthetic brushes when painting fur. I dry-brush glazes over opaque color shapes which adds layers of depth to the shadows. This bring out the highlights creating a brilliant effect.
Things to remember when dry-brushing
Your brush is dry and your working an area that has already dried.
Less is more when it comes to paint.
The thickness depends on the paint and whether you add a glazing medium. Just use very little on the tip of the brush.
Use a separate dry piece of paper or pallet to start your brush strokes so you know the effect you will get with the brush.
Leave each layers of paint dry before you apply a new color.
Dry-brushing is a fast way to add texture, depth and interest to the shape in the picture area. The paint is uneven not smooth because it is not diluted and will have a variation of color.
In this acrylic painting you can see dry-brushing in a specific direction gives the fur a texture I wanted and adds to the illusion of a mass.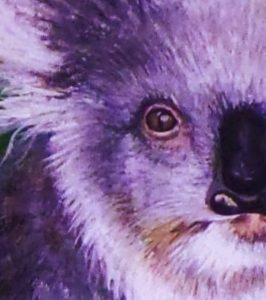 Acrylics are great to dry-brush because they dry quickly and permanently. I can work many colors in any direction giving me the control I want over this medium, where water color is not permanent and oils take time to set up.
You can see the rest of the painting here in my acrylic gallery.