Acrylic brushes make a difference in the way we apply the paint to the canvas or boards. I use different brushes for different painting surfaces for varied effects. By keeping a variety of brushes on hand it opens a creative avenue for my mind to follow.
I love to paint animals of all kind and the fur and skin patterns so experimenting with brushes was essential to my style of painting. Fine art brushes are handmade with natural hair bristle or soft, medium, and firm synthetic filament to mimic hair.
Brushes shape vary because no two are alike, so when you find one that is the right fit in your hand, take care of it. When I find a brush good for detailing it is hard to replace. Fine art brushes are handmade, expect some variation even among brushes from within a single brush line. The length and width of a brush of a given shape and size may vary by manufacturer as brush sizes are not standardized.
There really are no rules when it comes to the brushes you work with, it is a personal choice. There are a few things to consider like the size, volume of bristles, length and weight of the brush in your hand.
Acrylic brushes give us different effects
The brush results depends on the style of artist because they are in control of the brush stroke.
A Wash brush is a large flat brush that can hold a lot of paint. Used with water or acrylic mediums to control the thickness of the paint.
The Bright is a short flat brush that absorbs less color and has a stiffer stroke that doesn't hold a lot of paint. Great for short strokes and small areas.
Flat brush is longer than a Bright and is consequently more flexible at the tip. Wide strokes and will hold a lot of paint for maximum coverage.
Chiseled brushes are slanted or have an angled tip. Useful for creating lines and shapes that vary in thickness and coverage.
Liners great for detailing. With longer and thinner bristles it giving us the control to paint a line curved or straight.
Round brushes with shorter and thicker bristles that come to a point. I get more control in the paint flow in tight areas when detailing color.
Fan brush one of my favorite acrylic brushes because the bristles are arranged and cut like a fan that range from thick to thin. These brushes are great for blending, highlighting and adding texture. This section of the painting below shows the effects I get with a fan brush. The effect you want will vary depending on your stroke of the brush.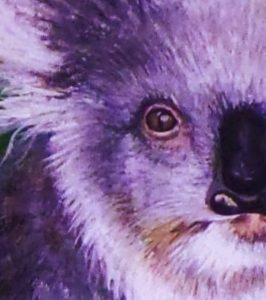 Painting
I want to control the flow and thickness of the acrylics when I paint. The feel or comfort of the acrylic brushes I use is important to me, so I like long handles on the brushes.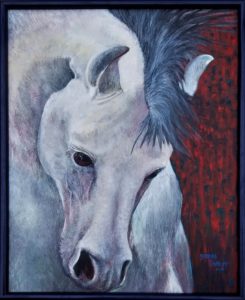 You can explore more of my work here. You are welcome to follow me here.